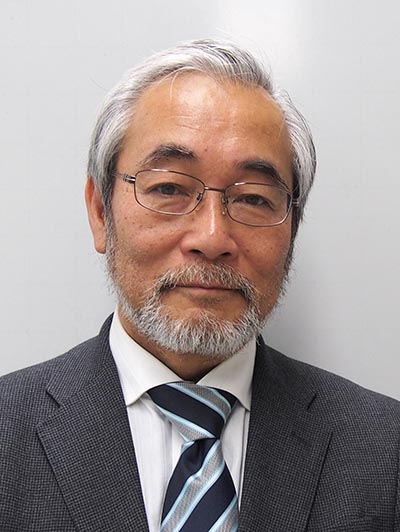 Takahide Ezoe, Principal of SNG
Shinjuku Japanese Language Institute was founded in 1975 by Takayoshi Ezoe, his wife Setsuko Ezoe, and their oldest son Takahide Ezoe. When the school opened, Japanese language education was not an ordinary thing. Because passports were hard to obtain in China and South Korea then, most students were from Europe and North America. At that time Japanese classes were taught in English using textbooks such as "Beginning Japanese I・II". The situation was completely different from nowadays. At the time, it was not common to sell Japanese language teaching materials. When the number of students from Asia increased, we had to create our own study material, while building an original approach to grammar, which led us to where we are today. Our method is based on visual grammar, so we adapted to software tools and developed an app called VLJ in collaboration with NTT Com. This visual approach to grammar not only applies to foreigners, it can also be used for teaching the deaf as it fosters deaf people's writing skills and understanding of morphosyntax. This is why we are also part of projects for deaf teaching. Through Japanese language education, we also help international students expand their knowledge of Japan and the rest of the world. Our teaching ideal is that, on top of having a role in global development, we can contribute to teaching Japanese to children and deaf people in Japan.
Doing our absolute best to strengthen Japanese education.
Our goal is to train people, through Japanese language education, to understand Japan, bridge the gap between Japan and their home country, and play a role in global development as well as to train people who will contribute to domestic deaf and children education.

Our ideal of "Doing our absolute best to strengthen Japanese language education" does not stop at only teaching the Japanese language. We research a variety of educational content itself, the results of which we use to improve our students' ability to reach their goals. This research includes Japanese grammar, kanji education, and the analysis of Japanese language education. By the development of grammar and teaching material as well as continuously improving ourselves, we strongly believe we can make a contribution to Japanese education.
At SNG, we strive to help exchange students using the Ezoe method.
Takahide Ezoe, Principal of SNG:
Kyoritsu International General incorporated foundation Councillor, Public interest incorporated association Metropolitan Tokyo Professional Institution Association Director, Japanese Language Institute co-operation Director
General Incorporated Association Zengakunikkyo Director, General incorporated foundation Association for the Promotion of Japanese Language Education Councillor